Igusa Bag IKAGO Tote Bag All Natural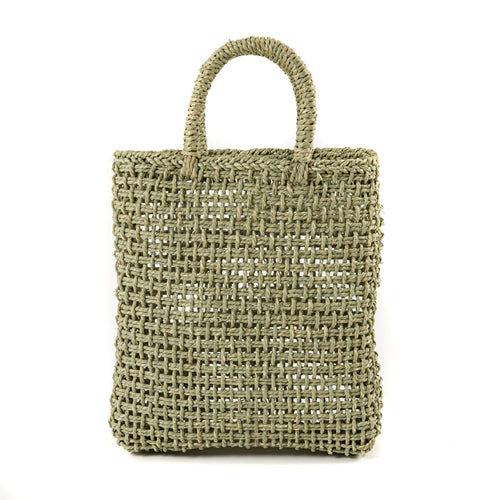 Condition:Brand New. Sunami Toru ShotenFounded in 1886, Toru Sunami Shoten was originally a gosa manufacturer in Kurashiki, Okayama Prefecture.In Kurashiki, the birthplace of Hanagoza, there was a thriving Igusa agriculture and Igusa product industry, but with the decline of the production area, Sunami Shoten stopped m...Read more
---
american express

apple pay

google pay

jcb

master

paypal

visa
Description
Condition:
Brand New.
Sunami Toru Shoten

Founded in 1886, Toru Sunami Shoten was originally a gosa manufacturer in Kurashiki, Okayama Prefecture.
In Kurashiki, the birthplace of Hanagoza, there was a thriving Igusa agriculture and Igusa product industry, but with the decline of the production area, Sunami Shoten stopped making gosa and now makes Igago, a basket made of Igusa.
Mr. Sunami, the fifth generation of the family, has been making ikago since he was a child, learning from his grandmother.

Originally, the basket was called "yami-kago" because it was used as a shopping basket in the black market after the war. Yami-kago can be found in any region and were made from materials available in that region. In Kurashiki, people used to weave yami-kago as a domestic occupation by twisting parts of igusa, which were discarded during the manufacture of igusa products, into ropes.

Igusa is always breathing, so its softness changes depending on the humidity of the day. On a rainy day, it absorbs moisture and expels it on a sunny day. On a rainy day or a humid day, the Igusa may feel a little stiff. Because it is breathing, it is easy to get a habit of shape, but it will soften again as you use it.

Ikago is made of Igusa, the same material used in tatami mats. Therefore, after a few years, the color of the ikago will change to brown, just as tatami mats are burned. At that time, the grease from your hands will make it shiny, and the corners of the basket will become slightly rounded and flexible. I hope you will enjoy the aging process of the basket.

-Please use a brush or a dishcloth to clean it if it gets dirty.
-If you are using it in a humid place, please dry it in the shade with good ventilation.
-After a few years, the color of the fabric will change to brown and it will become more supple. Please enjoy the change over time.
What Our Customers Are Saying