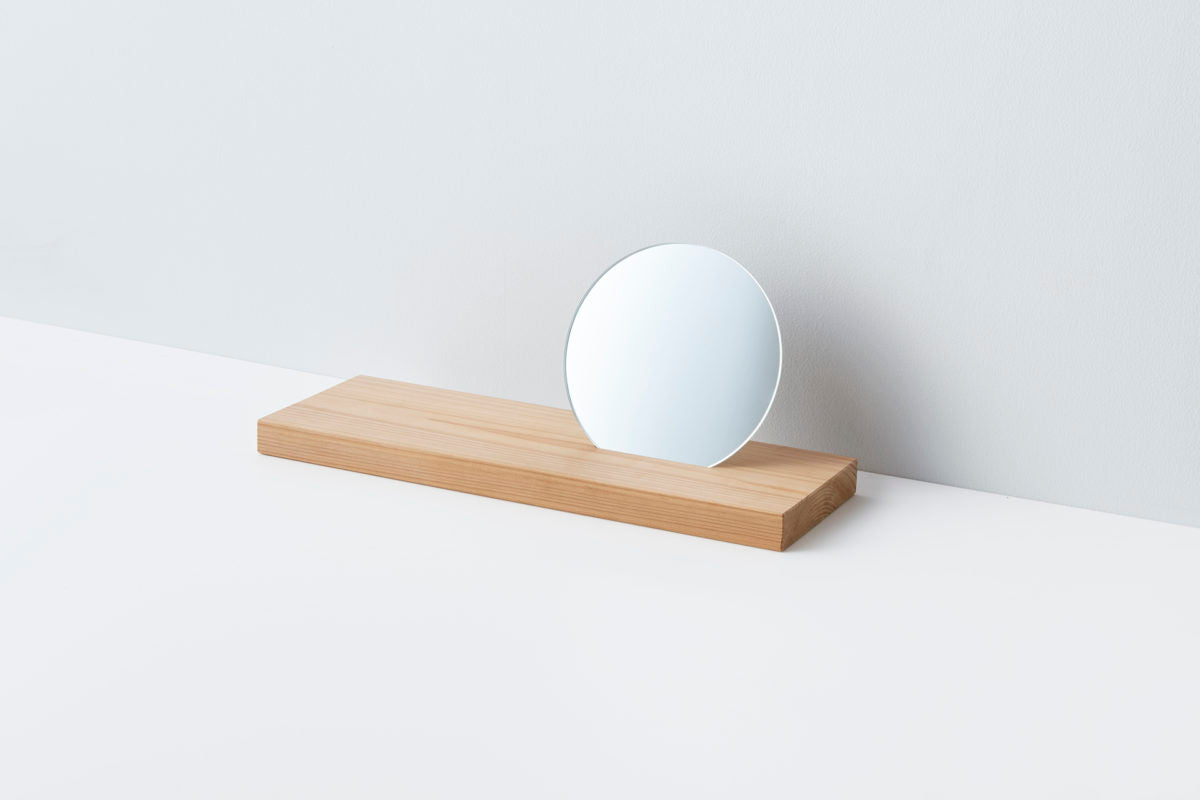 Condition:Brand New. The design is simple: a slit is cut in the wood of the base, and a circular mirror is simply set into the slit. The wood has slits on both sides at different angles (20 degrees and 30 degrees, respectively), allowing you to change the angle of the mirror. There is also a space beside the mirror whe...Read more
---
american express

apple pay

google pay

jcb

master

paypal

visa
Description
Condition:
Brand New.
The design is simple: a slit is cut in the wood of the base, and a circular mirror is simply set into the slit. The wood has slits on both sides at different angles (20 degrees and 30 degrees, respectively), allowing you to change the angle of the mirror. There is also a space beside the mirror where you can put your cosmetics, keys, etc.

Width 400mm
Depth 138mm
Height 26mm Mirror=160mm diameter 

*Please allow up to 4 weeks for shipping.

Designer: KEIJI ASHIZAWA

-Due to the nature of solid wood, there may be scratches on the surface that cannot be completely eliminated by sanding.
-Due to the nature of wood in general, there is a possibility of warping, twisting, and cracking due to fading caused by sunlight (ultraviolet rays), humidity, temperature, or internal stresses caused by deterioration over time.
-You can enjoy painting, but the paint may be repelled in areas where adhesives are used to increase strength.
-It may scratch the floor where it is used. Please be careful.
-Please be aware that there may be a slight variation in size due to the condition of the wood.

About Ishinomaki Workshop -Recovery from the Great East Japan Earthquake

The power of DIY and design to revitalize people and cities.

Ishinomaki Kobo was established in 2011 as a "place for local craftsmanship". Against the backdrop of the Great East Japan Earthquake, Ishinomaki Kobo was started as a place that can be used for recovery and reconstruction, and in addition to supporting DIY activities, the facility has been restored and renovated. In addition to DIY support activities, we also restored and renovated the facilities, creating a place for everyone to think about how the city can be rebuilt.

One of the highlights of our early activities was working with local high school students to create benches for outdoor movie screenings. In the same year, Herman Miller cooperated with the Ishinomaki workshop through its disaster relief program. In the same year, Herman Miller cooperated with the Ishinomaki workshop through its disaster relief program, holding a furniture-making workshop with disaster victims and providing them with furniture. We continue to hold design workshops to acquire ideas and skills.

Ishinomaki Kobo has added the power of design to "handmade" products and launched the "Ishinomaki Kobo Brand" to sell them within and outside the region. Competent Japanese and international designers and Ishinomaki staff produce and line up attractive products.

Ishinomaki Kobo is working as a "DIY maker" to push the world and possibilities of DIY through the power of design. Through our work at Ishinomaki Kobo, we are convinced that DIY and design can create vitality in any situation. We dream of people everywhere reclaiming their creativity and enriching their lives and communities.
What Our Customers Are Saying